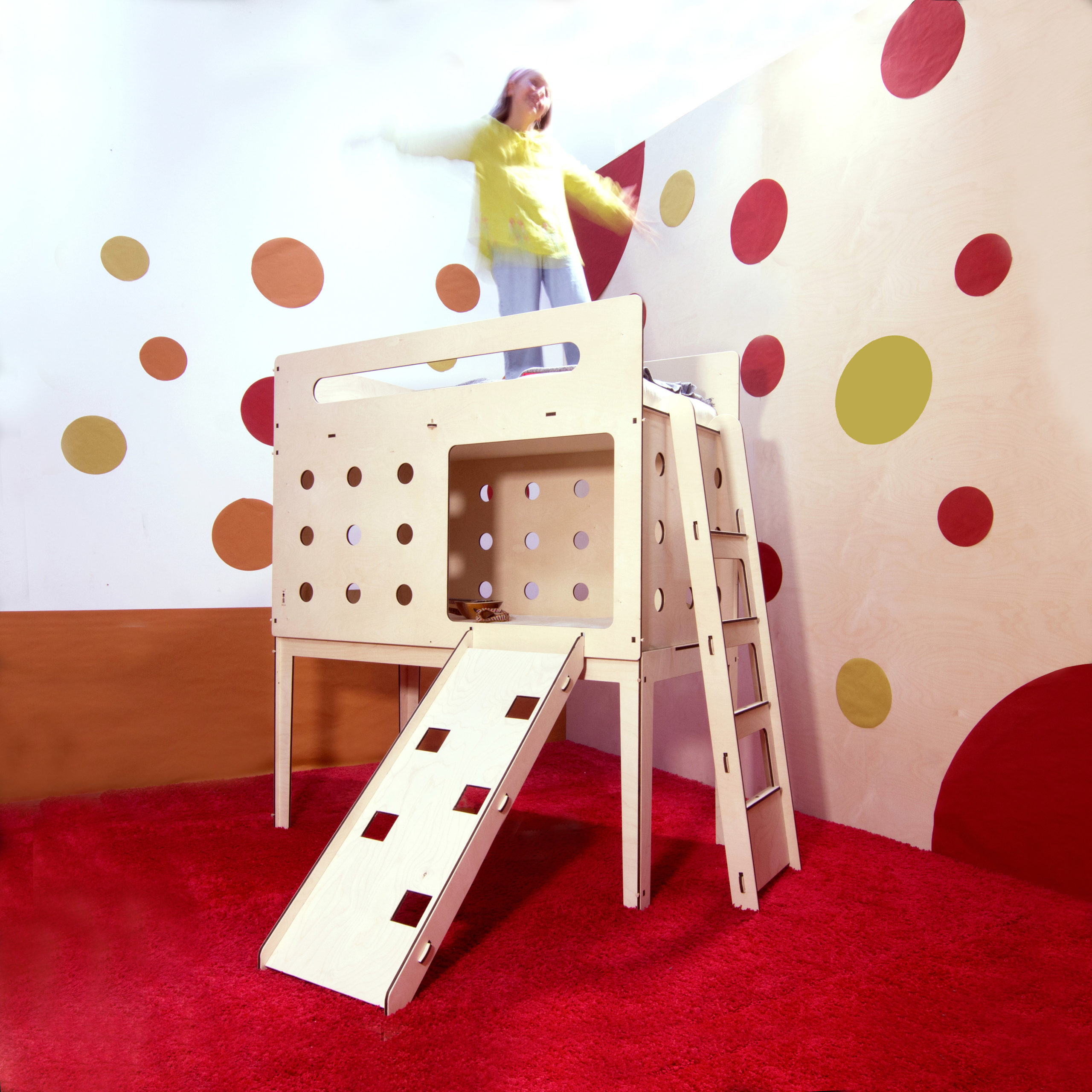 L9 bunk bed and children's play unit. L9 is a playhouse that can be transformed into a bed or a den. L9 can be combined with table T7. The play bed combined with the table becomes a construction on 3 levels. The table can also be used independently if required. The bed house L9 is made of 100% birch wood, it is interlocking and can be combined with one or two cotton futons.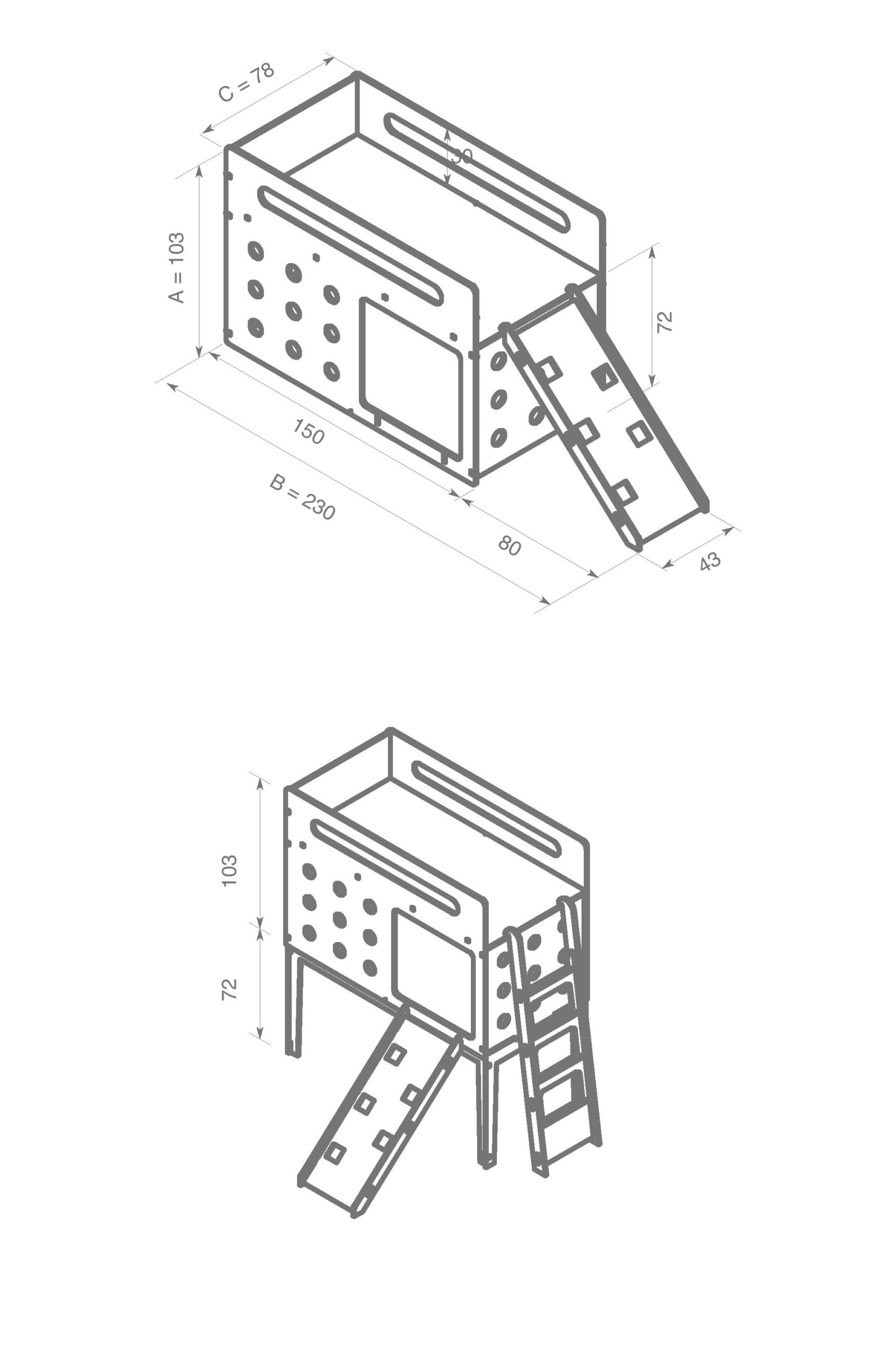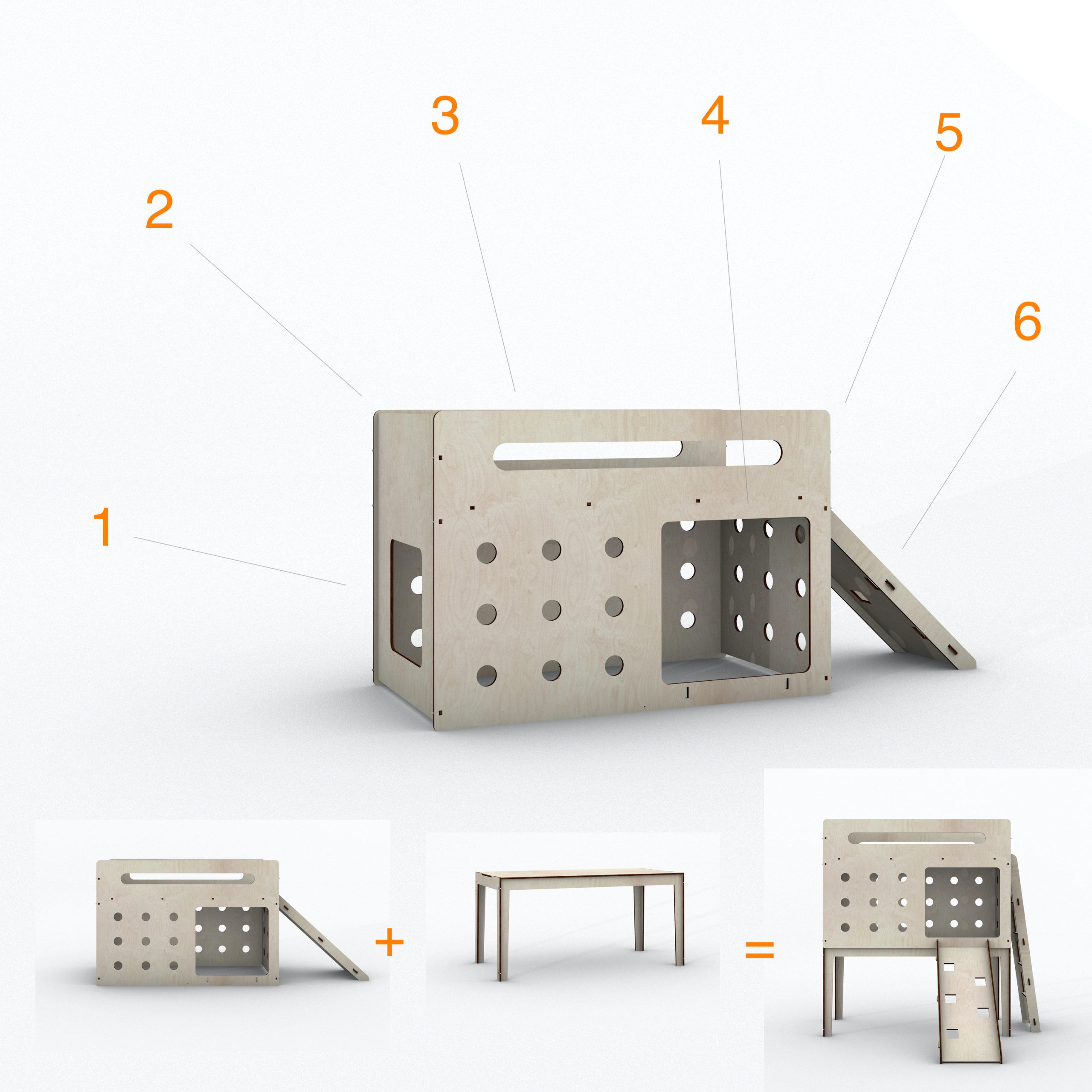 1 – interlocking assembly 100% wood
2 – the casetta module can be combined with the T7 table to form a small bunk bed
3 – cot with breathable base suitable for any mattress
4 – game units with windows that can be combined with curtains
5 – product designed together with children
6 – ladder slide can be unhooked from the structure
This product is made exclusively of birch plywood (link to the materials page), the panels we use are E1 and CARB certified for formaldehyde emissions and FSC certified to monitor the cutting of trees and the sustainable use of labour throughout the manufacturing process of plywood panels.
Laser cutting technology applied to wood (link to the page on laser cutting) allows us to obtain exact joints and to manage the production of customised and made-to-measure furniture quickly and at no extra cost.
This product assembles interlocking (link to a specific text on interlocking), just with your hands and no tools. The interlocking, wood-on-wood assembly extends the life of the product. Metal joints wear out the wood over time, while 100% wood joints preserve the functionality of the product and keep it stable and sturdy.
All TOTEM products can also be made to measure, to the nearest centimetre. They can be customized with engravings and writings or according to specific customer specifications. A bespoke product does not cost much more than a standard product. The only additional burdens are those given by the design of the custom components.
All furniture is sold in assembly kits. The surface is given perfectly sanded and not painted. This makes it possible to carry out maintenance work for scratches and stains, by simply sanding only the damaged parts, without having to touch the other parts of the furniture.
It is possible to buy separately the finishing kit that can be neutral/coloured or coloured(water-based paints in white, yellow, orange, red, light blue, green, black, walnut, grey). IThe product is applied with a sponge roll and dries after about one hour.
Alternatively we can supply the products already painted and coloured applying a higher cost equal to 20% of the product price.
Follow the instructions on the instruction sheet for assembly. TOTEM products are assembled only with your hands and the help of a hammer. To disassemble the products, follow the instructions on the assembly sheet in reverse order. Use only the front end of the hammer to pull out pegs.
Use only a slightly damp cloth to clean the surface. For unpainted products it is always possible to sand down the stained or damaged parts with fine sandpaper (180 grit). Accidentally damaged components can be individually replaced by sending us an email with the part number and date of purchase.
TOTEM products are designed and manufactured in Italy. We are proud of our product, its uniqueness, its values of ecology and sustainability that have determined our choices since 1996. TOTEM products are not determined by trends or fashion but by functionality, simplicity, solidity and durability. (link to values)
Do you need mounting support? To customize this product? Contact us and we will be able to help you!
Download technical documentation
Download the information brochure on this product in PDF format.